As a driver, you're well aware that your tires serve an important purpose and function to your vehicle. You're also aware that your tires can endure some considerable wear and even damage. The constant contact on the surface of the road is expected, but it can actually start to damage the rubber on your tires over time.
That's why it's important to stay up on the condition and know when to schedule tire repair. At Fred Beans Lincoln, we're proud to help keep drivers in Chalfont, Philadelphia, and Warminster on the road through regular tire inspections and performing necessary repairs.
Making Your Tires Last
There are a few ways that you can make your tires last longer, so you can get the most out of them while putting off a replacement. During every oil change, you'll want to have your tires rotated. This can help make them last because it evens out the wear, allowing you to get the most out of each individual tire before having them replaced. You'll also want to keep an eye out on the road for any debris or potholes. Hitting these objects can put your tires at risk.
How to Tell That Your Tires Need Repairs or Replacements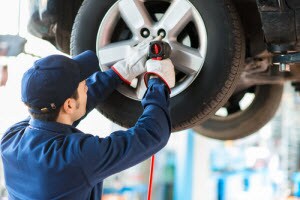 Like most of your vehicle's components, there are several signs that can help you stay ahead of any tire repairs, or they'll let you know when you'll need to have your tires replaced. Some of these signs can be detected when you're behind the wheel. Other signs require a visual check every now and then.
The car vibrates when moving.
The vehicle pulls to a specific side.
The tread is worn down.
The tires have cracks and bulges.
Getting Your Tires Repaired
Whether you've noticed the signs that we listed above, or you can simply tell that there's something off with your tires, you can always come see us for help. We'll take a look and determine the best course of action for repairing your tires so we can help you extend their lifespan. However, if it looks like repairs won't help, we'll gladly walk you through the tire-replacement process.
At Fred Beans Lincoln, we're here to help drivers in Chalfont, Philadelphia, and Warminster with their automotive service and repairs.